Posts for: June, 2014
By Cambridge Dental Associates
June 27, 2014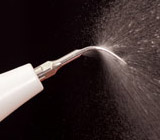 While you may most associate professional dental cleanings with that "squeaky" clean feeling you have afterward, there is a much higher goal. What is also referred to as "non-surgical periodontal therapy," these cleanings seek to remove bacterial plaque and tartar (hard deposits) not only from the visible portions of the tooth but also the root surfaces (scaling), so as to reduce the risk and occurrence of periodontal gum disease.
For generations, this was primarily achieved by dental hygienists using hand-held instruments specially designed to manually remove plaque from tooth surfaces. Since the 1950s, though, a new technology known as ultrasonic or power scaling has become more prevalent in use. Initially only used in the outer most portions of the gum tissue (the supra-gingival area) power scaling is increasingly employed to clean the sub-gingival area, much closer to the tooth roots. As this technology has developed, it's been shown to be just as effective, if not superior in some cases, to manual scaling for removing plaque and tartar.
Ultrasonic or power scalers work by emitting high vibration energy that crushes and removes plaque and calculus (tartar). The resulting shockwaves also tend to disrupt bacterial cell function. The hygienist uses water to flush away the dislodged calculus. They have a number of advantages over manual scaling: they're quite effective on deep gum pockets, especially when specially designed tips are used; they require less time than manual scaling; and when used correctly power scalers are gentler to tooth structures.
However, they do have a few drawbacks. Because they produce an aerosol effect, power scalers can project contaminants from the patient's mouth into the atmosphere, requiring special protective equipment for the hygienist. They're not recommended for patients with hypersensitive teeth, especially regarding temperature change, or for teeth with areas of de-mineralization (the loss of mineral content in the enamel). Care should be taken when they're used with implants or porcelain or composite crowns — specially designed tips are necessary to avoid scratching the restoration. They may also have an effect on cardiac pacemakers.
In the end, the best approach is a combination of both power and manual scaling techniques. Depending on your individual needs, ultrasonic scaling can do an effective job in removing plaque and tartar and help you avoid gum disease.
If you would like more information on ultrasonic cleaning techniques, please contact us or schedule an appointment for a consultation. You can also learn more about this topic by reading the Dear Doctor magazine article "Dental Cleanings Using Ultrasonic Scalers."
By Cambridge Dental Associates
June 12, 2014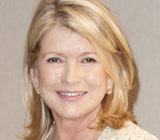 Here's a quick quiz: What recent activity did domestic guru Martha Stewart share via social media for the first time? Need a hint? Was she following the lead of other celebrities like rapper 50 Cent (AKA Curtis James Jackson III), actress Demi Moore and country music star LeAnn Rimes?
Give up? The answer is… she live-tweeted her visit to the dentist! Not only that, she also posted pictures of her mouth as she was undergoing an in-office whitening procedure.
Now, we understand that some might feel they don't need to see close-ups of Stewart's teeth under treatment. But we have to admire her for not trying to hide the fact that she's had the same procedure that has benefited so many people, whether famous or not. Plus, her pictures actually provide a good illustration of how the treatment works.
In-office whitening treatments are the fastest way to brighten up your smile. In a single one-hour visit, your teeth can be lightened by three to eight shades — and that's a big difference! How can we achieve such dramatic results? When you're under our direct supervision in an office setting, we can use the most concentrated bleach solutions safely and effectively. You can get similar results with custom-made trays and take-home lightening solutions we can prepare for you, but then the process will take longer.
If you look closely at her photos, you'll see that Stewart's lips, gums, and face are covered up to prevent any contact with the bleaching solution. She's also wearing protective eyewear, which not only keeps chemicals away, but also guards her eyes against strong lights, which are sometimes used in conjunction with bleach. When we perform in-office whitening procedures, we use safeguards like these for all of our patients — not just celebrities!
We also perform a complete oral examination before starting any whitening procedure, to be sure you don't have any underlying conditions that need to be treated before teeth whitening begins. That's something you just can't get from an over-the counter whitening product.
Teeth whitening is an effective and affordable way to give your smile a quick boost. But whether you decide to live-tweet your procedure — or keep your fans guessing about why your smile looks so good all of a sudden — that's up to you.
If you would like more information about the teeth whitening, please contact us or schedule an appointment for a consultation. You can learn more in the Dear Doctor magazine articles "Teeth Whitening" and "Important Teeth Whitening Questions Answered."