Posts for tag: nutrition
By Cambridge Dental Associates
May 06, 2019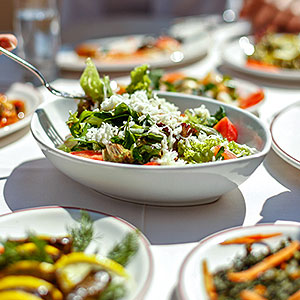 There are a number of lifestyle changes you can make if you want to reduce your risk of oral cancer, with quitting a tobacco habit at the top of the list. You should also moderate your alcohol consumption and practice safe sex to prevent the spread of the human papilloma virus (HPV 16) linked to oral cancer.
And there's one other area that might be ripe for change—your diet. The foods we consume can work both ways in regard to cancer: some, especially processed products with certain chemicals, increase your cancer risk; more natural foods, on the other hand, can help your body fight cancer formation.
Although how cancer forms and grows isn't fully understood, we do know some of the mechanisms involved. One major factor in cancer growth is damage to DNA, the molecule that contains all the instructions for normal cell growth. Certain chemicals called carcinogens cause much of this DNA damage.
One example of these dangerous chemicals are nitrosamines, found in substances used to preserve meats like bacon or ham. Nitrosamines also occur in beer during the brewing process, some fish and fish products, processed cheese and foods pickled with nitrite salt. It's believed long-term consumption of foods with these chemicals can increase the risk of cancer.
On the other hand, there are foods with substances called antioxidants that help our bodies resist cancer. Antioxidants protect cells from unstable molecules called free radicals that can also damage DNA. You'll find antioxidants in abundance in fresh fruits and vegetables, especially those high in fiber. Vitamins like C and E found in many natural foods also have antioxidant properties.
So, to help keep your risk of cancer and other diseases low, make sure your diet includes mostly fresh fruits and vegetables, along with plant-based fats found in nuts or olive oil.  At the same time minimize your consumption of processed foods with preservatives and other chemicals, along with animal and saturated fats.
A change in eating not only reduces your cancer risk, it can also improve your overall health and well-being. You'll also find a healthy diet can be dental-friendly—it can help keep your teeth and gums disease-free and healthy.
If you would like more information on dental-friendly nutrition practices, please contact us or schedule an appointment for a consultation. You can also learn more about this topic by reading the Dear Doctor magazine article "Diet and Prevention of Oral Cancer."
By Cambridge Dental Associates
June 06, 2017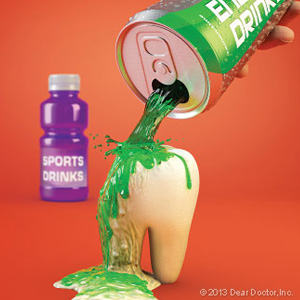 Energy drink makers would have you believe their products are a healthy rehydration choice for athletes while also giving them keener focus and renewed vitality. But before adding them to your sports regimen, you should also consider what effect these beverages could have on your teeth.
Energy drinks are similar in ingredients to sports drinks like Gatorade® and PowerAde®, which mostly consist of water, salts, vitamins, sugars and acids. In addition, energy drinks like Red Bull® and Monster Energy® add caffeine to boost energy.
Besides their sugar content, the main threat from a dental health perspective for both of these drinks is their acidity, which can severely erode tooth enamel. The irreplaceable loss of enamel significantly increases your risk of tooth decay and eventually tooth loss.
The threat of enamel erosion is especially pronounced whenever the mouth's pH level falls below 5.5. The acidity of both sports and energy drinks falls well below this mark. In one experimental study samples of enamel exposed to a number of sports drinks lost an average of 1.5% of mineral content over five days; energy drinks more than doubled that loss at 3.1%.
Given the potential harm these beverages, especially energy drinks, can cause your teeth, you should exercise caution when consuming them. In fact, our best advice is for you to avoid energy drinks altogether, for your overall health as well as your teeth's sake.
Unless you're participating in a physically intense sport, water is your best source for hydration after exertion. Â If you do drink sports beverages, try to limit them to meal times when your saliva is most active to neutralize mouth acid. You can also rinse out your mouth with water after drinking to help further reduce mouth acidity.
As an athlete, you've trained your body to be at its optimum physical peak. Don't let energy or sports drinks take the edge off your health, especially your teeth.
If you would like more information on the effects of sports or energy drinks on dental health, please contact us or schedule an appointment for a consultation. You can also learn more about this topic by reading the Dear Doctor magazine article "Sports and Energy Beverages Bathe Teeth in Erosive Acids."
By Cambridge Dental Associates
August 01, 2014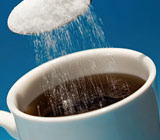 We've all heard about potentially negative health effects from the sugar that's added to many of our favorite foods. So these days, lots of us are trying to cut down on our consumption of sugar — not only to lose weight, but also to help prevent maladies like diabetes and heart disease. We can't help noticing those pastel-colored packets — pink, yellow and blue — on the rack of our favorite coffee shop. But now we're wondering: Are those sugar substitutes a good alternative to natural sugar? And which one should we choose?
Artificial sweeteners have been around for decades. Six different types (including the ones in the colorful packets) are currently approved as safe by the Food and Drug Administration; a couple of older ones (notably cyclamates) have been banned for many years. In addition to those zero-calorie sugar substitutes, low-calorie sweeteners called sugar alcohols (for example, mannitol and xylitol) are often used as food ingredients. So what's the difference between them — and which one is best?
That's not so easy to answer. If you have a rare genetic condition called phenylketonuria, you should avoid aspartame (the blue packet), because your body can't process the substance. Otherwise, the choice may come down to a matter of taste. Even though they are FDA-approved, some controversy (both fact-based and far-fetched) remains about the long-term safety of sugar substitutes, and their usefulness in preventing obesity and other diseases.
Yet it's clear that for some people, the consequences of consuming too much sugar could be much worse. So if you're at risk for diabetes or certain other diseases, sugar substitutes can be an important tool in maintaining a healthier diet. They also have another health benefit: sugar substitutes don't cause cavities. Further, some sugar alcohols (xylitol in particular) have the property of stimulating saliva flow, and have been shown to actually impede the formation of cavities. Oral health is an important (if sometimes overlooked) component of your general well-being, and several studies have pointed to a link between oral and systemic diseases — for example, diabetes and heart disease.
As with so many aspects of our health, there seems to be no "magic bullet" to cure all our diet-related problems. But used in moderation, artificial sweeteners can be a valuable part of the effort to improve our overall health and well-being. For more information on this topic, see the Dear Doctor article "Artificial Sweeteners."