Posts for tag: sensitive teeth
By Cambridge Dental Associates
April 26, 2019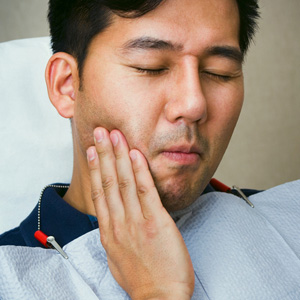 Like other living tissue, your teeth can feel. Dentin, the layer below the enamel, houses fluid-filled conduits that transmit temperature or pressure sensations to a nerve network within the tooth's inner pulp. It's so effective that incoming sensations must be buffered — "toned down"— to avoid a painful overload of the nerves. The enamel above the gum line and a bone-like substance called cementum below help do this.
Unfortunately, if teeth lose this protection they can become hypersensitive. This can cause a flash of sharp pain while eating or drinking something cold or hot or just biting down.
There are a number of causes for tooth sensitivity, any of which can influence how we treat it. While you'll need a dental exam to know for sure, your hypersensitivity will more than likely stem from one of these 3 problems.
Periodontal (gum) disease. This is an infection caused by bacterial plaque, a thin film of bacteria and food particles that accumulates on the teeth due to poor oral hygiene. The inflamed gum tissues weaken and detach from the teeth, causing them to shrink back or recede. This leaves the cementum unprotected, which easily erodes and exposes the dentin to acid and bacteria — and hypersensitivity. Clinically removing the plaque helps the affected gums heal. In extreme cases, the gums may need surgical grafting to regenerate.
Overaggressive brushing. While a lack of oral hygiene can contribute to gum recession, ironically too much hygiene — brushing too hard for too long — can damage your gums and cause them to recede. Brushing really doesn't require a lot of elbow grease — a gentle scrubbing motion over all tooth surfaces is sufficient to remove plaque. Fine-tuning your brushing will help your gums to recover and heal.
Mouth acid. Although quite strong, enamel has one formidable enemy: acid, which can erode enamel and expose the dentin. Over-indulgence in acidic foods and beverages can make your mouth more acidic; more likely, though, bacterial plaque will again be the culprit, because bacteria excrete an acidic waste product. You can reduce mouth acid with daily brushing and flossing and consuming less acidic foods and beverages.
If you're experiencing any kind of tooth pain, see us for an examination. We'll determine the cause and initiate the appropriate treatment to regain your oral health.
If you would like more information on tooth sensitivity, please contact us or schedule an appointment for a consultation. You can also learn more about this topic by reading the Dear Doctor magazine article "Treatment of Tooth Sensitivity: Understanding Your Options."
By Cambridge Dental Associates
May 11, 2015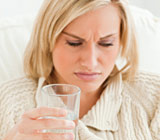 If you wince while eating certain foods and beverages, you're not alone — one in three Americans suffer from the pain of tooth sensitivity. Fortunately, there are ways to treat it and reduce the pain.
Dentinal hypersensitivity occurs when dentin loses its protective cover. Dentin, a living tissue within a tooth, is composed of tiny tubules that act as conduits for transmitting sensations from the surface of the tooth to the nerves in the inner pulp. These tubules are protected by cementum, a hard, outer layer that covers the tooth root. But when the root becomes exposed, the cementum is easily stripped from the root. The tubules become more sensitive to sensations of temperature or pressure.
Receding gums are the main culprit for root exposure. This condition can result from periodontal disease, which arises mainly from poor oral hygiene. At the other end of the spectrum, over-aggressive brushing can lead to receding gums. Brushing may also contribute to another source of dentinal hypersensitivity: enamel erosion. The minerals in enamel begin to soften and erode as the acidic level of the mouth rises. Saliva neutralizes the acid and can restore a neutral balance in about thirty minutes to an hour after eating. If you brush before this process completes, you could brush away some of the softened enamel.
To properly treat tooth sensitivity, our first step is to find the cause. If it stems from improper or premature brushing, we can counsel you on proper technique. If periodontal disease is a factor, we would first treat the disease and then work with you on a proper oral hygiene regimen to reduce bacterial plaque, the main cause of the infection.
There are treatments as well to reduce nerve sensitivity and thereby ease the pain. Toothpastes and other mouth products with fluoride help reduce sensitivity, as well as products containing potassium nitrate or potassium citrate. We can also apply a varnish containing a concentrated dose of fluoride directly to tooth surfaces. Another approach is to block the tubules using bonding agents or sealants; this will reduce their capacity to receive and transmit sensations.
If you would like more information on the causes and treatment of tooth sensitivity, please contact us or schedule an appointment for a consultation. You can also learn more about this topic by reading the Dear Doctor magazine article "Treatment of Tooth Sensitivity."